Events
The Centre for Leading Research in Education frequently hosts events related to education research and below you will find resources associated with these events.
On December 15, 2023 CLRiE and Laurier's Faculty of Education will host research coordinators from both the Waterloo Region District School Board and Waterloo Catholic District School Board. The event aims to foster connections between researchers and practitioners and provides an excellent opportunity for the centre's members to share their research interests and hear about opportunities for research within these school boards. If you would like to participate, please RSVP.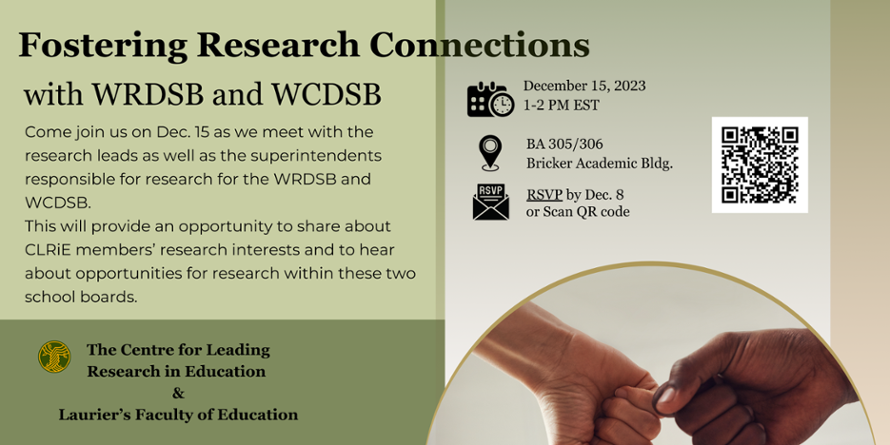 The COVID-19 pandemic posed significant challenges in conducting research and and necessitated constant adaptation to changing conditions. To explore this theme the Centre for Leading Research in Education hosted a Panel Discussion titled "Educational Research and Global Engagement in the post-COVID Era" on March 21, 2023. The panel featured CLRiE members engaged in educational research in diverse global contexts and included Alexandra Gottardo, Bree Akesson, Ehaab Abdou, Magnus Mfoafo-M'Carthy and  Steve Sider. The panel shared their experiences of conducting education research in Kenya, Haiti, Egypt and Syria.
The panel stressed that while digital technology was an effective instrument for doing research, it needed to be balanced with human interaction and as such, should be a source of innovation. Besides educating other academics and community partners, researchers also need to be aware of the political, social, and cultural context of the locations they plan to study. 
Listen to the related podcast episode on global perspectives on education research by clicking the link below.
In January 2022, the Centre for Leading Research in Education at Wilfrid Laurier University convened a group of 34 education leaders and researchers for a conversation about how the school system should support recovery from the educational and developmental harms associated with COVID-19. The workshop was designed to reflect our belief that better educational policy solutions arise when different voices have a chance to be heard, that there are many stakeholders and researchers who are very keen to help shape and inform the agenda around recovery in Ontario and beyond; and that multi-stakeholder processes are feasible and constructive. It may also usefully provide a benchmark by which we can assess actual recovery policies put in place by government.
Apart from the conversation itself, the workshop resulted in the report, "Educational recovery and reimagining in the wake of COVID-19: Principles and proposals from a multi-stakeholder workshop", available below. The report highlights key priorities for recovery and rebuilding in the education system, reflecting both points of strong consensus and areas where there is not yet full agreement. 
Read the report offline. Need an accessible version?  Download a text-only DOCX version of the report. 
Click to watch elements of the workshop