Lived Expertise Working Group
"Falling Through the Cracks" Exhibit
Voices of Displacement in Waterloo Region
"Falling Through the Cracks" is a photo voice exhibit showcasing the perspectives of community members with lived experiences of homelessness in Waterloo Region. It's part of are search collaboration between the Lived Expertise Working Group (LEWG) and a 2022/23 undergraduate research course from Wilfrid Laurier University and supported by Viessmann Centre for Engagement and Research in Sustainability (VERiS). LEWG itself is a pilot project with the City of Kitchener to model how Lived Expertise engagement can evolve and look like in the future. This exhibit is one of three main projects the LEWG is working on as part of their 2-yearpartnership with the City to address the impacts of the housing crisis. If you want to support the work of this group, see here for more information.
About the Exhibit
With the rise in gentrification, affordable housing options are lost and people continue to be displaced. Even in the midst of our current housing crisis, the experiences and stories of those who are unsheltered largely remain invisible to the broader public. Read the article, "Kitchener photography exhibit shines light on homelessness" (The Record).
Exhibit Purpose
We hope to spark discussion and advocate for equitable access to housing and resources which better support unhoused people in Waterloo Region. We also want to raise awareness by showing the different perspectives on housing insecurity, as well as uplift the voices of those most impacted. The goal is to engage in conversations with change-makers and the general public.
Making the Exhibit
We asked people with lived experiences of displacement and housing insecurity to take photos around Waterloo Region to help answer the following questions:
What do people need right now to complete their journeys?
What are displacement's impacts?
Where are opportunities to make changes in the city?
Afterward, as a group, we selected photos and discussed their meanings. From that, we identified themes and patterns, discussed on the other page. 
Exhibit Photos by Theme
"This is a diverse community with members from different social groups"
This theme can be seen throughout this exhibit. Communities are vital for our well-being and self-growth. They were described as a family, togetherness, and a sense of belonging. A community can be anywhere, including at tent cities, picnic tables, and park bench.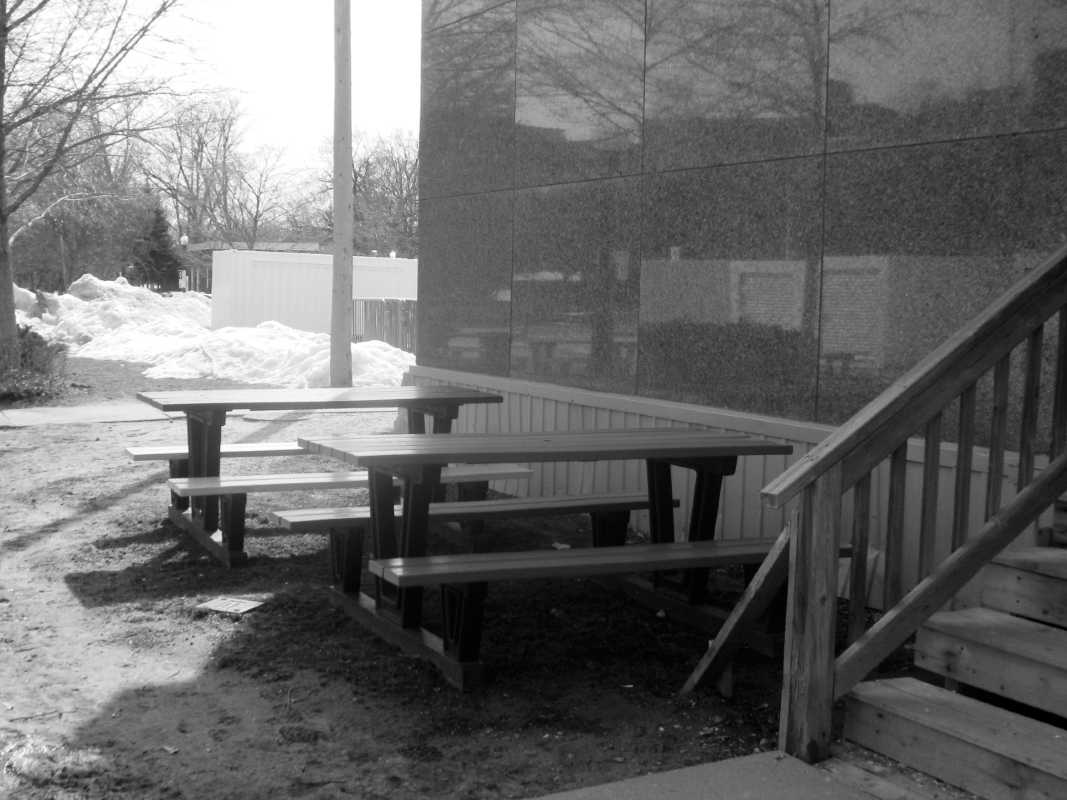 40 Gaukel Street
By C
This street has become a community hub, promoting togetherness and community gatherings. These picnic tables are outside what used to be the Charles Street terminal. The bus terminal now sits empty while people are sleeping on the streets.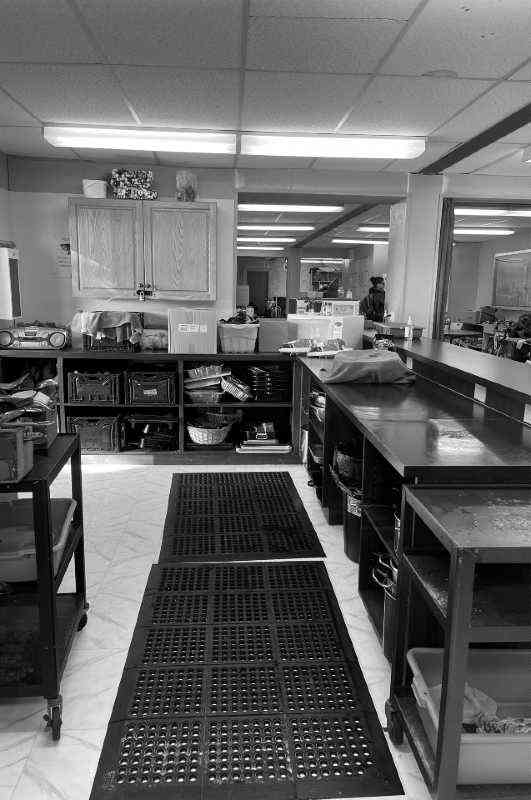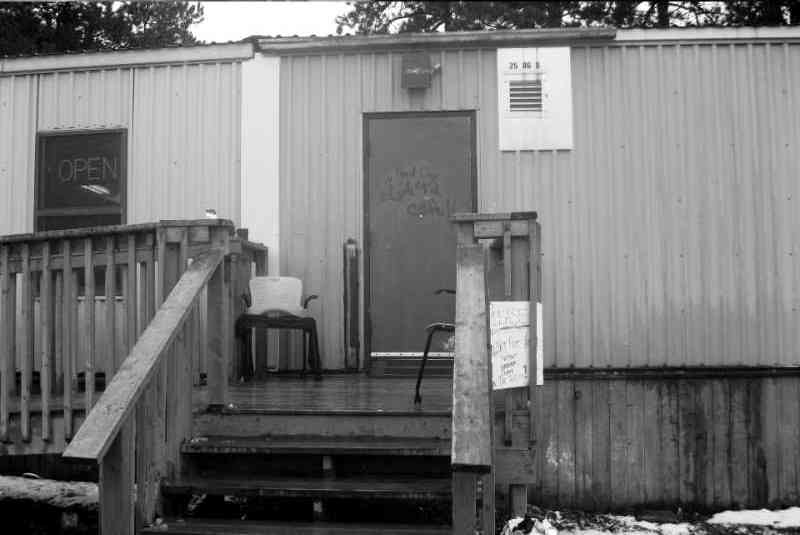 A Better Tent City
By U and K
A community for some; there is so much diversity in this space. It can also be a place where fights, violence and disagreements happen. Single-option shelters are not great choices for a diverse population because conflicts can occur across groups. It can be dangerous.
"Seeing so much abundance and yet scarcity in close quarters is ironic. This contrast is also heartbreaking"
Waterloo Region is one of the fastest-growing hubs in Canada and considered part of the Canadian "Silicon Valley". Despite this abundance of opportunities, resources are scarce. This leaves people unhoused and vulnerable.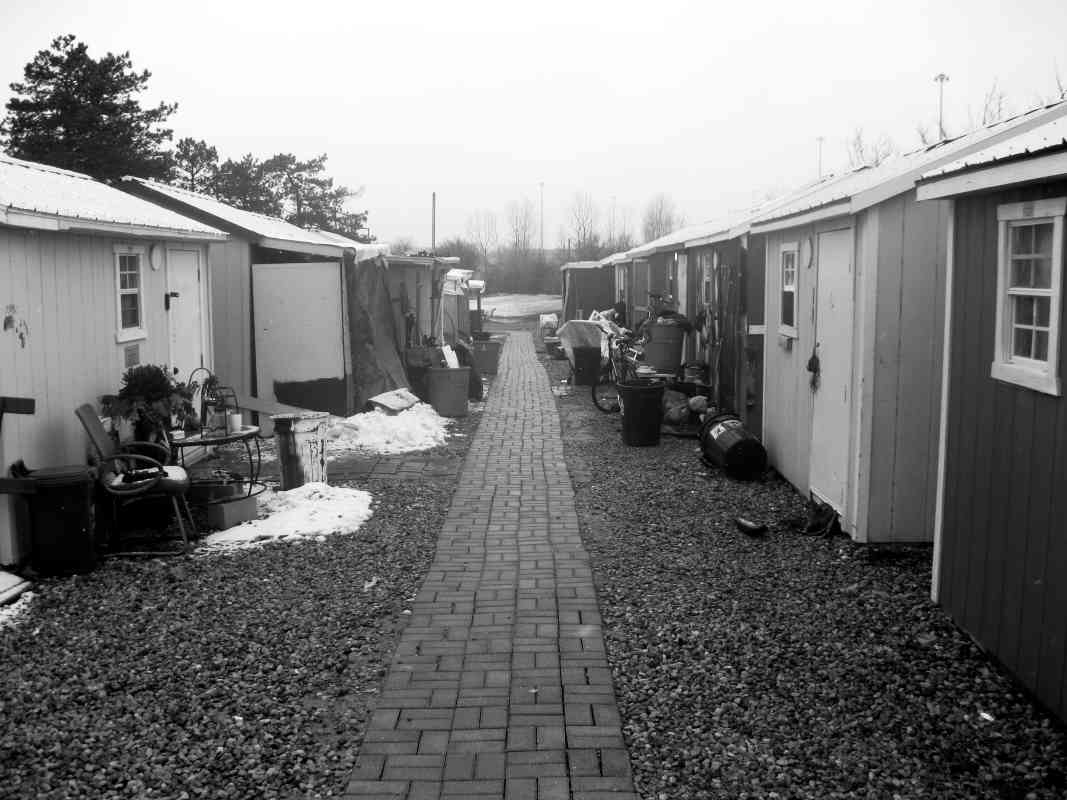 A Better Tent City 2

By K
Unhoused people are being pushed outside of the inner-city core. Capitalism creates an environment of scarcity among abundance which fosters violence and conflict. Funding increases for living spaces could prevent this. Better Tent City was created for people to have a place to call home. Outsiders may see this place as messy, but there isn't enough space. Even so, this space provides people a chance to live with dignity. 
Outside Washrooms and Showers
By U
Access to this space is challenging at times because the washrooms are locked up and there are shower keys. People sometimes have to use the portables. There's a lack of privacy with public washrooms and showers, but many people use them for refuge and private space. There's a need for alternative spaces.
"We need more harm reduction initiatives, including safe injection sites, decriminalizing substance use, and mobile health clinics."
There is often pushback to harm reduction strategies because it's seen as encouraging "bad behaviour." However, these strategies are backed by researchand reduce negative impacts.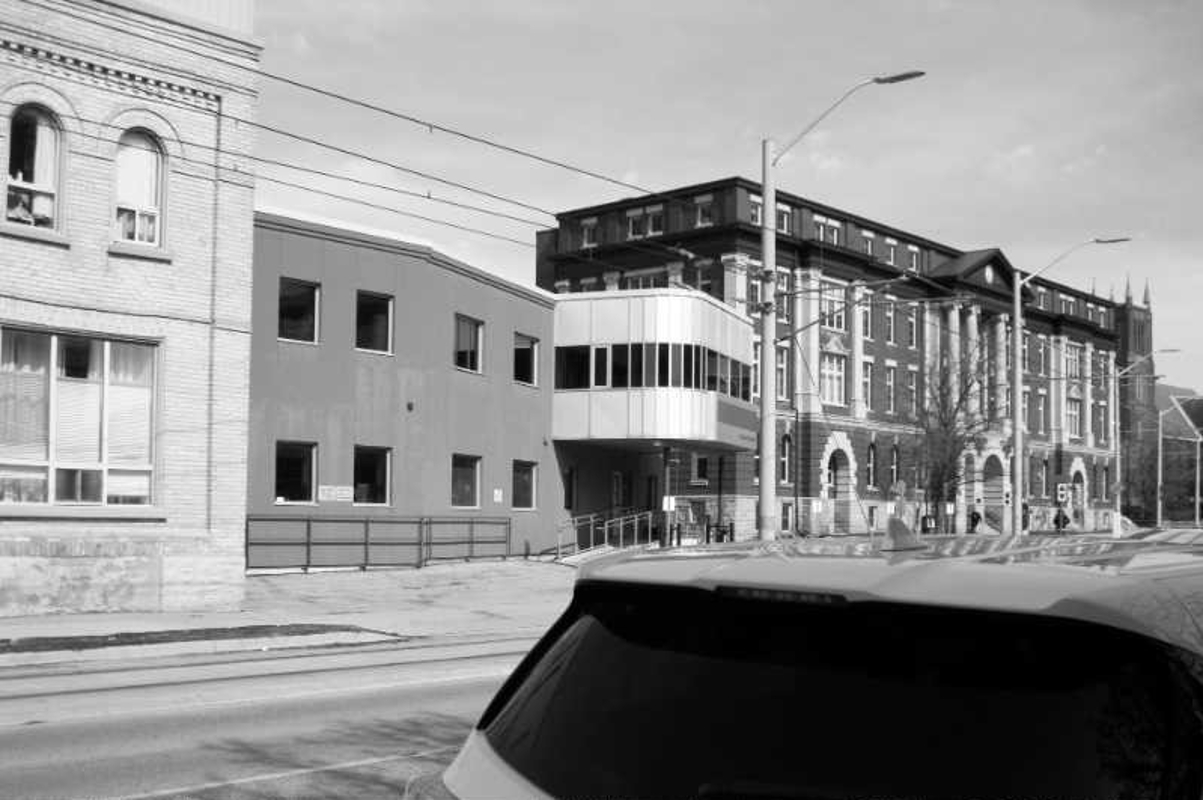 Safe Injection Site
By J
There are nurses that will give you oxygen instead of naloxone. The problem is that there are not enough of these sites near Fairview because they are only in the downtown core. This is an example of positive community action, and the community needs more safe injection sites. People used to burn tents associated with safe injection sites and attack homeless people (using drones).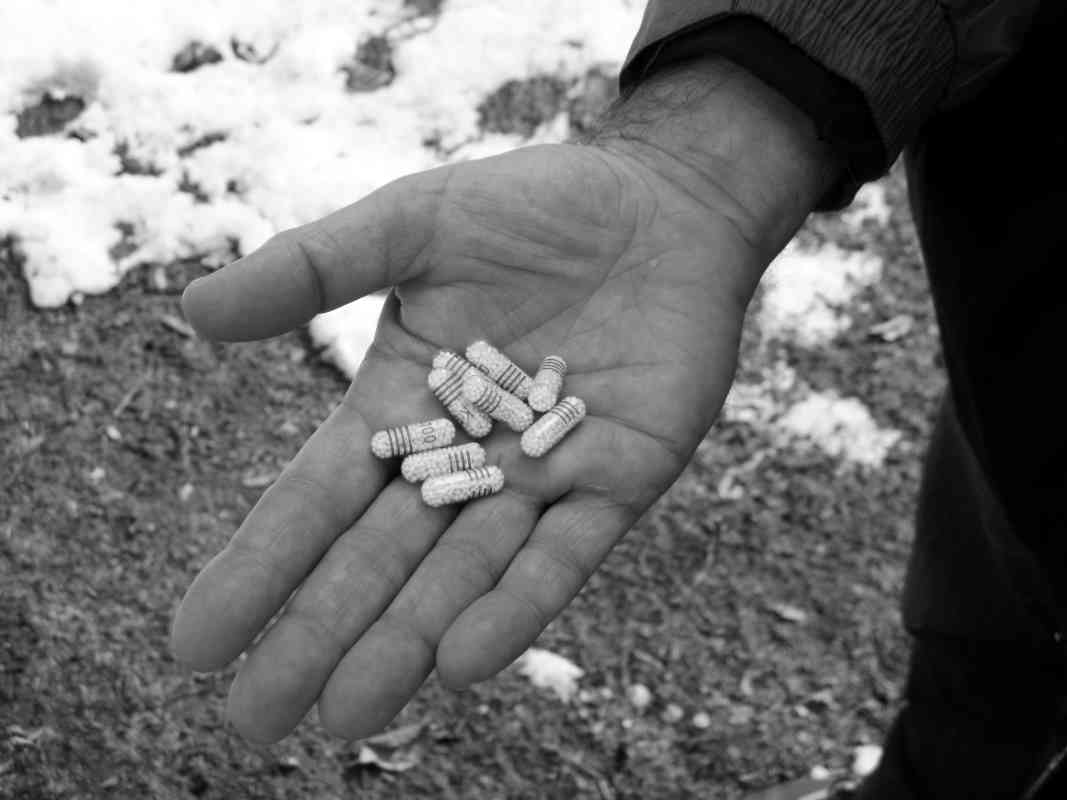 Decriminalization
By J
These are Morphine 100 mg pills. They are equal to a hit of fentanyl, leading to more overdoses on the streets. They are much more dangerous because they are so easy to get on the streets. The drug alerts from the health department haven't been useful because they're too simplistic. People need access to more safe injection sites, more peer education, and a focus on harm reduction instead of criminalization.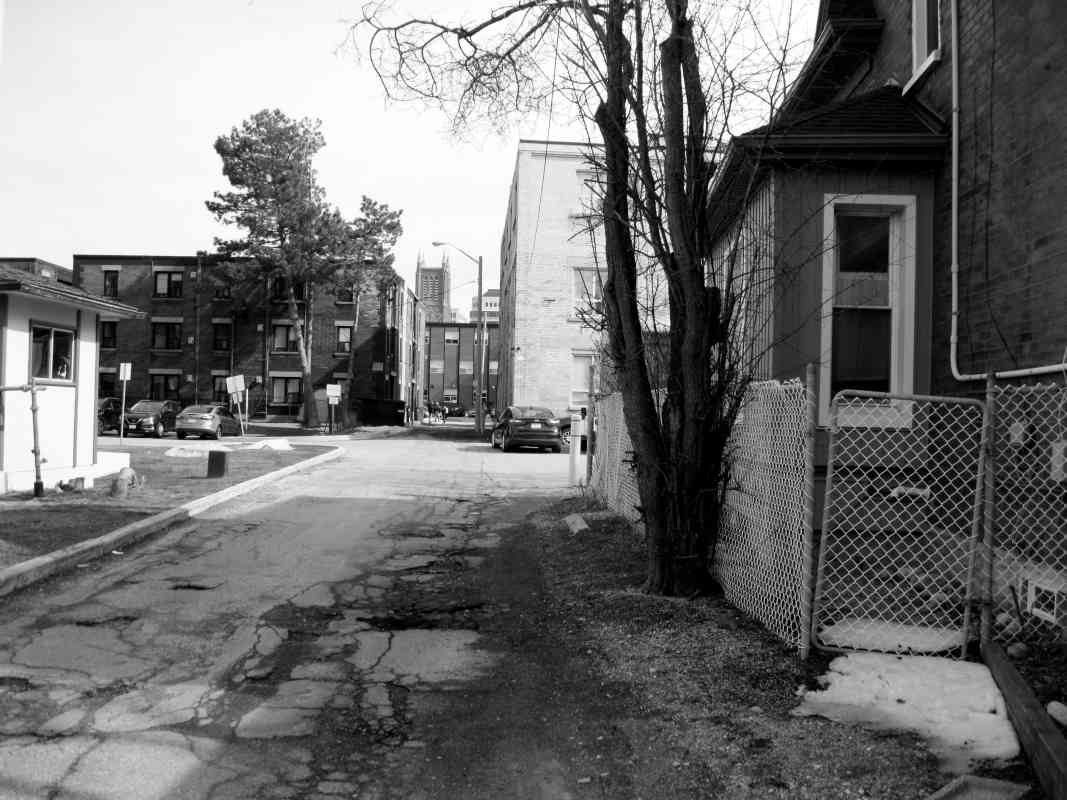 Safe Place
By J
This is a safe place for people to use drugs since there are no cameras here. The cameras have been used to criminalize homeless people. These buildings in the background used to be community (low-income) housing and have now been gentrified. Units have been renovated to push out low-income families and ownership has been turned over.
"We had things come out in the open because of COVID and now they'retrying to hide things again. Homelessness has been resisting invisibility since COVID."
The encampments and graffiti are forms of resistance as unhoused people resist attempts to hide the housing insecurity and reclaim their right to live in dignity.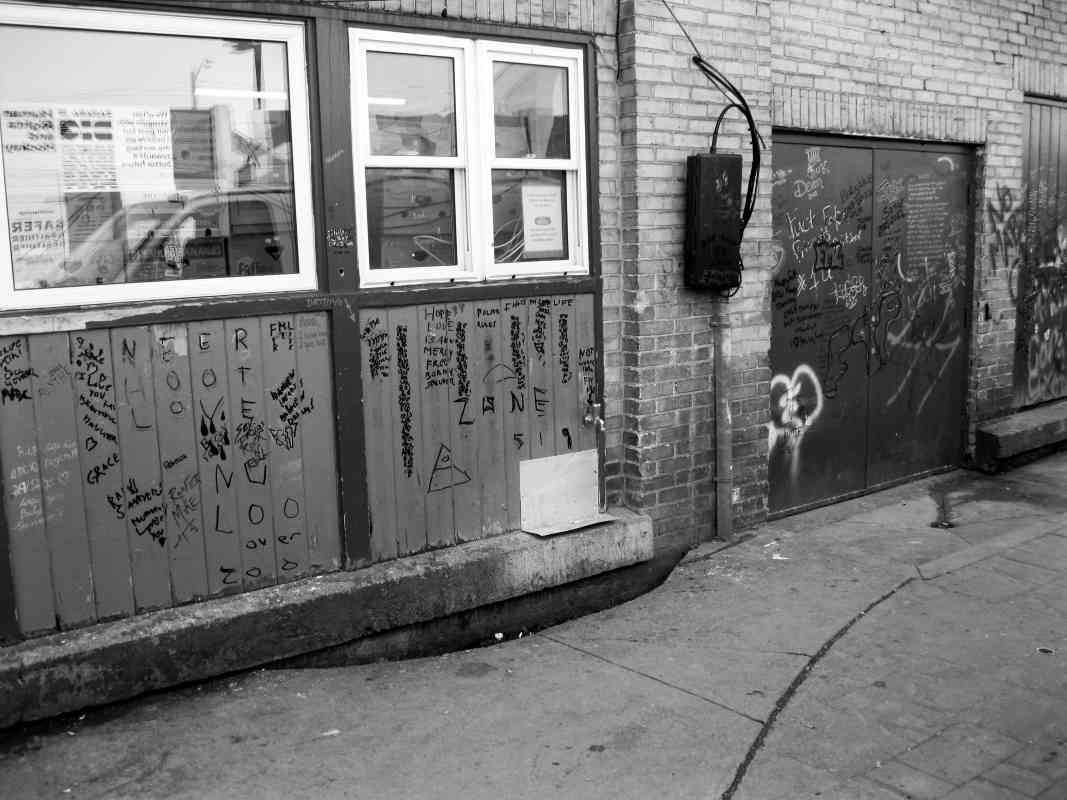 St. John's Kitchen
By J
This spot is a place the community expresses itself and reclaims space as a form of resistance. It is not vandalism but an artistic expression of what people are saying. It's not random vandalism, but a way to create media since access to mainstream forms of media is limited. The community can communicate with each other, express anger, or memorialize those they've lost.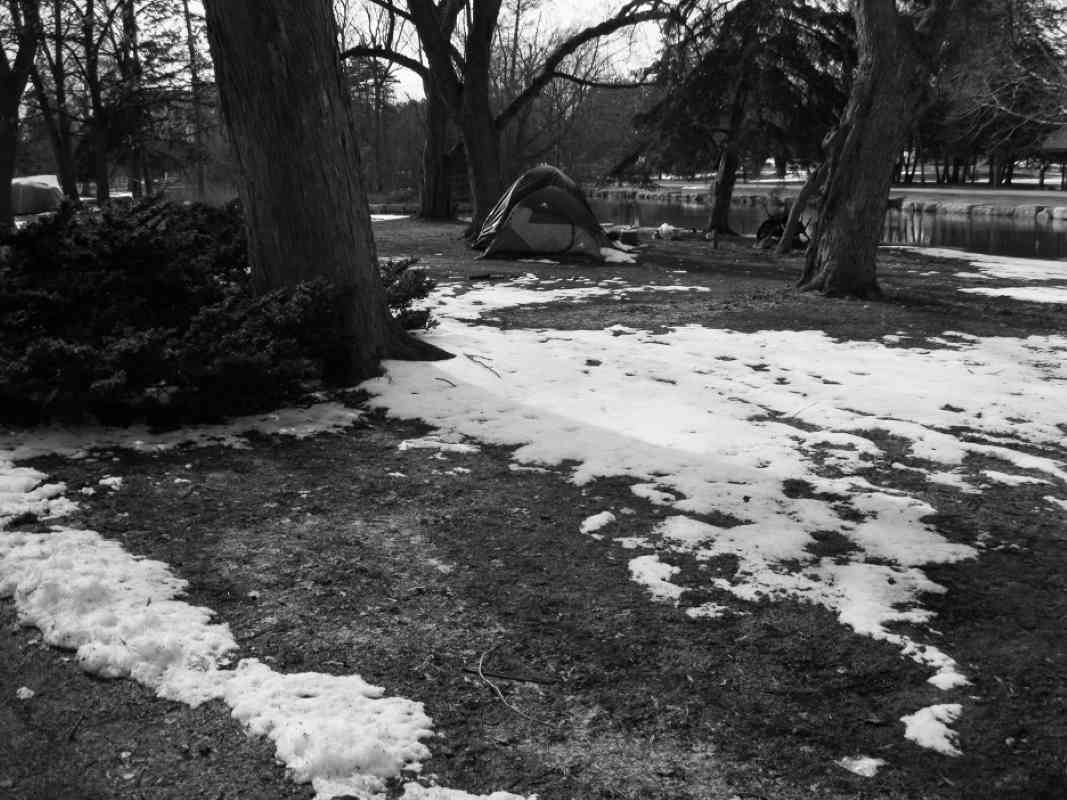 Tent at Roos Island
By J
If you do not give people an outlet to articulate their resistance, they will find other ways. Since 1998, people have been taking over this island to build tent cities. People also have weddings there. The visibility of the tents in a public space forces people to talk about it despite outsiders trying to hide the issue of homelessness in the community. Encampments act as symbols of resistance.
"If you know, you know"
When it comes to the housing crisis and the experiences of unhoused people, the broader public rarely pays close attention or understands the unique contexts.There are hidden meanings and stories behind places we see every day. These stories speak of resilience, togetherness, loss, and social class disparities.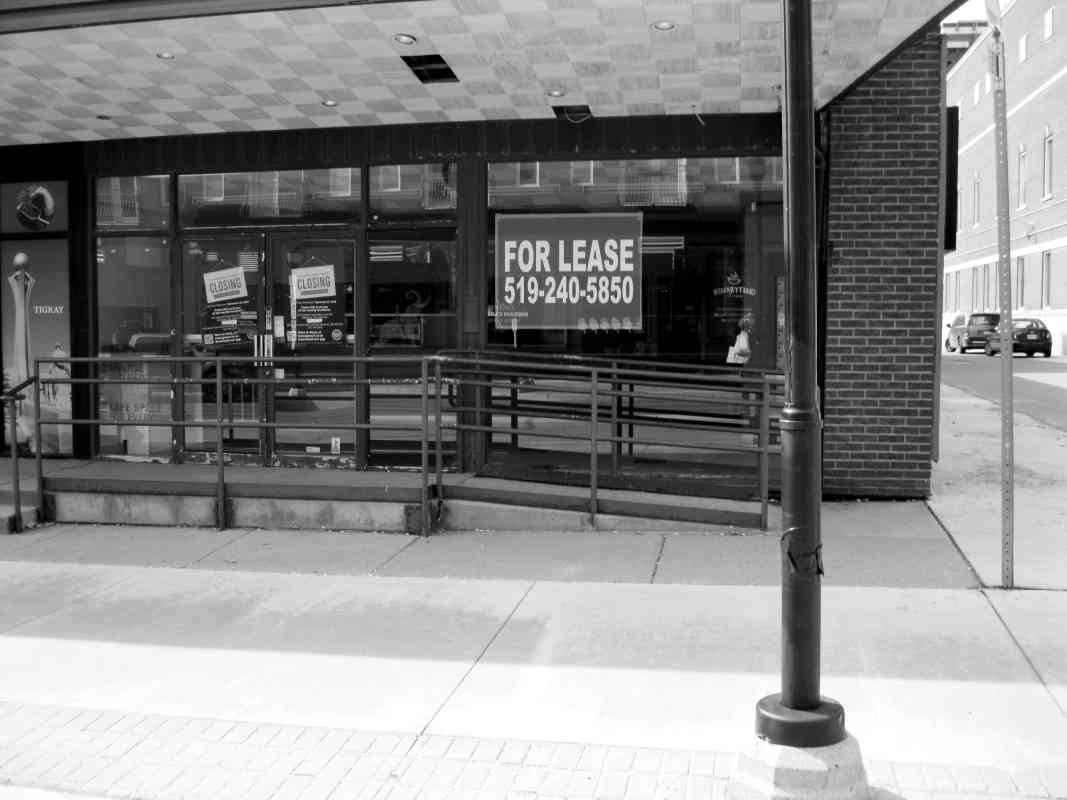 For Lease
By J
We are seeing so much displacement downtown. This was a place where people could cash their welfare checks, but since COVID began there have been taxes added on to businesses. Surrounding businesses complained that they didn't want homeless people there. This hang-out spot was a communal, safe space but has now been removed. This gentrification and displacement further separates the community.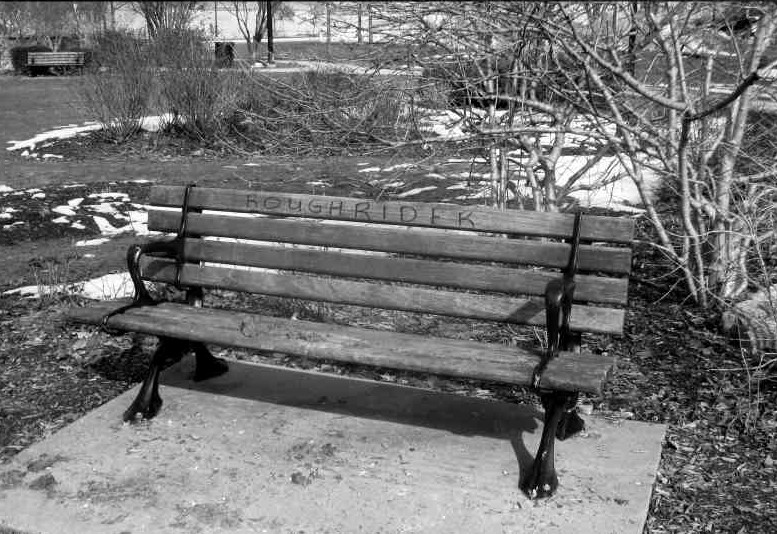 Willow River Park
By C
Formerly known as Victoria Park, this park represents community because many people come together here to sleep (the big handles can be used as pillows), sit, have good or hard conversations, or just feed the ducks and be with nature. When moving around, you have to keep your stuff with you at all times since there aren't enough safe places to leave your things.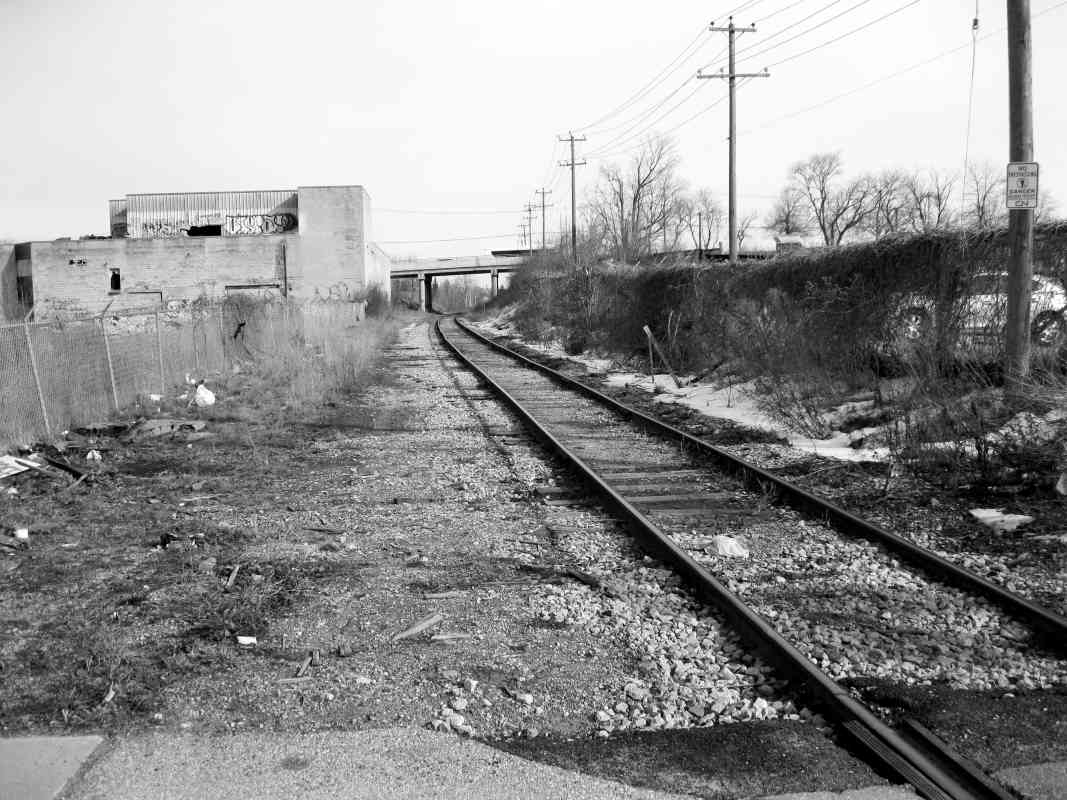 Stirling Bridge
By J
People sleep by this bridge and have to build less-visible tent cities throughout the city. The building by the tracks used to be a slaughterhouse but it has been abandoned for around 20 years. Why can't people live here? This space, like many others in the city, is not being used adequately.
"A few people live at The Picnic Table and we've lost 11 of them. These people were active members of our community."
The theme of loss was heartbreaking asmembers shared about the lives lost. This theme is also connected to losing safe spaces, practical resources, connections and community.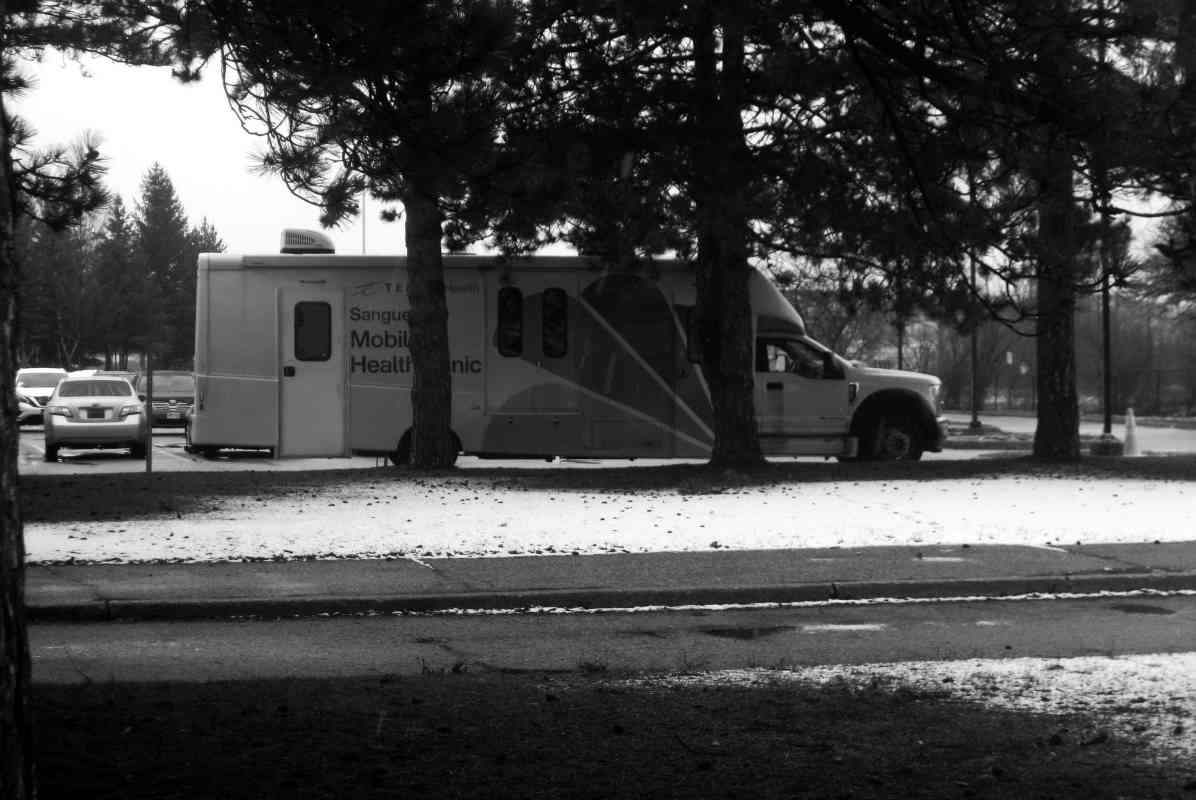 The Mobile Command Truck
By K
This truck shows up about twice a week. They provide clean needles and act as a tool to help prevent overdose. They also serve people without health cards, so they're considered a family doctor on wheels. Anyone needing a checkup, vaccine, or bloodwork can seek help there. This is a positive example of access to support and resources, and we need more of these initiatives.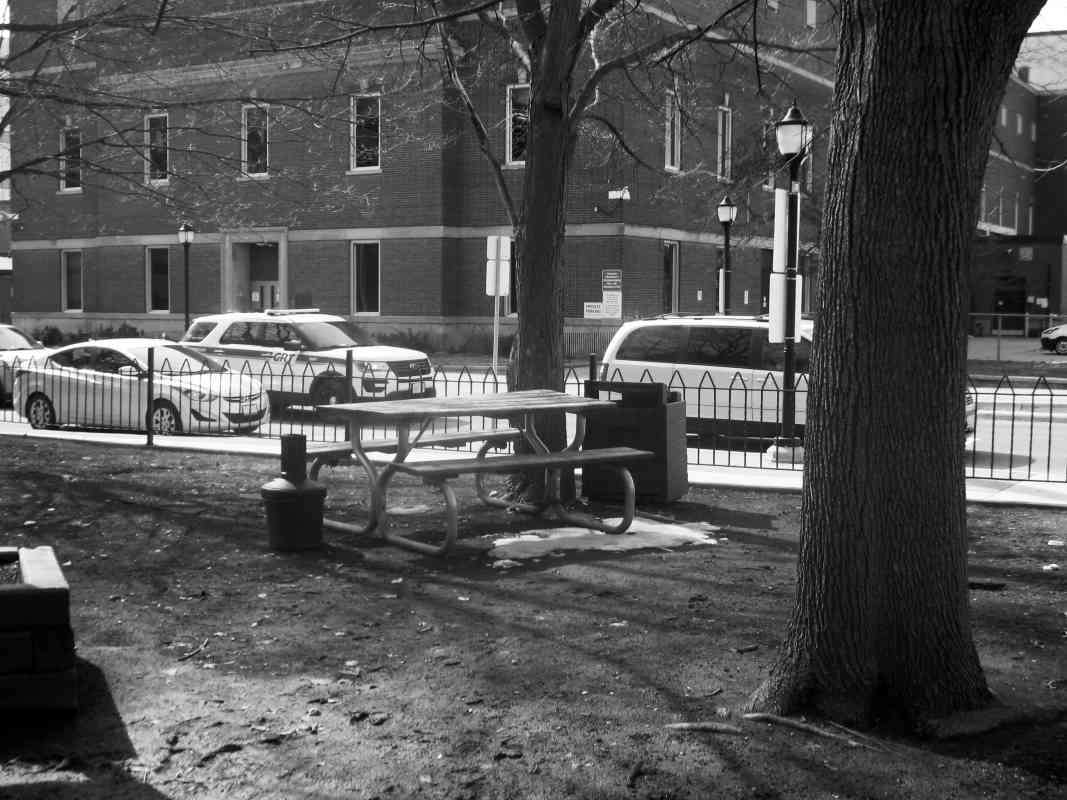 The Picnic Table
By C
This is a very powerful place. A few people live at this table, they've been here for years. This week alone, we lost 4 of them. We lost someone recently who was very important. They were so friendly, funny, honest, and helpful. This table provides a sense of belonging. One picnic table has changed so many lives.*
*At the time of this exhibit, we had lost 11 of them.
Housing insecurity affects many and actively reduces the quality of life for everyone. We need equitable housing policies and resources, community support efforts, and to keep the conversation going.
A Partnership
This exhibit is in partnership with the Lived Experience Working Group, the Social Development Centre, and Laurier, supported by The Centre for Housing Transformation and the City of Kitchener.
VERiS also supported the exhibition and coordination.