Bringing in the Bystander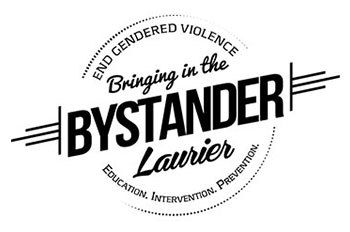 The purpose of "Bringing in the Bystander at Laurier" is to increase feelings of safety and reduce gendered violence on campus at Laurier by encouraging members of the campus community to be positive and engaged bystanders. Funding for this project has been provided by the Student Life Levy to the Manulife Centre for Community Health Research at the Lyle S. Hallman Faculty of Social Work.
Based on recommendations of an extensive research project that took place between 2012-2015, the Change Project, was a project funded by the Status of Women Canada to the Sexual Assault Support Centre of Waterloo Region (SASC). Given a long-term working relationship between our research team and SASC, we conducted qualitative and quantitative research with Laurier students, staff, faculty and community partners in order to gauge the campus climate relative to gendered violence. This initiative produced a series of recommendations to create a healthier campus climate at Laurier. One of these recommendations was the development and implementation of a sustainable bystander intervention program that trains individuals to overcome common barriers to intervening when gendered violence occurs.
Train-the-Trainer Workshop
This full-day, interactive, train-the-trainer workshop provides a sustainable way for individuals to implement the Bringing in the Bystander curriculum on their campus. Attendees gain the skills to facilitate the program themselves, and train future facilitators within the Laurier campus community.
Bringing in the Bystander (BITB) curriculum
The interactive, researched, and evaluated curriculum uses a community of responsibility approach.
The program teaches bystanders how to safely intervene before, during and after an incident of sexual abuse, relationship violence and stalking.
Through in-depth discussion of issues and role-playing, participants come to understand how they play a part in proactively preventing sexual and relationship violence, how they can help survivors get the help and support they need, and how they contribute to the creation of a campus climate that reflects a commitment to safety for all.
The program is customizable to reflect the locations, colloquialisms and culture of our campus.
The program is designed to be presented both as a 90-minute session and in a more comprehensive two session program totaling 4.5 hours.
The BITB curriculum has also been offered to community partners outside the academic realm and has been well-received by attendees.